This week started with a holiday. Monday was Victoria Day, which we call May Run, in Northern Ontario. Both Dave and Cedric were off. We took our time, relaxed, took a ride. It was a good way to start the week.
I then worked two days in a row. Tuesday, I spent the day with two grade 8 classes, which went pretty well. Wednesday, I was at the high school and my last class was depressing. The lack of motivation and work done was just sad and they really pushed their limits. It's the curse of the supply teacher! I was grateful for a supper with my girl friends for which I dressed up (we went to a pretty classy restaurant) and which allowed for relaxing and venting (and some caramel cheesecake). The rest of the week has been uneventful :D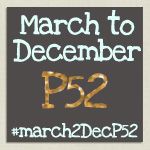 Now, from one fancy supper to another, last week was our anniversary! Ten years!!
My in-laws watched our little man and we went out to another nice restaurant where we had venison, and yummy desserts. And the prompt for P52 last week was "two", so I figured a little photo of the two of us on our anniversary was perfect.
The lighting was bad, though, so the photo that the waitress took makes us look very dark. So once again, the best shot is an end-of-arm couple's selfie. And thank goodness for hubby's long arms :D
But then, I saw these "two"...
... and that's an even better "two". My two guys sharing a moment of love :D Cedric is in a very strong Dad loving phase and I don't mind one bit. I still get lots of love and I really enjoyed seeing my little one so happy to see is Daddy get home and giving him hugs and kisses.
Now, while I have your attention, let me show you a couple of digiscrap layouts I made this week!
My new desktop, with Everyday May by Jen Yurko:
This one is a very cute collaboration between Jen Yurko and Triple J Designs, called Bad Hair Dayz, which allowed me to journal the nightmare that is haircuts... Cedric hates them!
The experience is horrible, but the layout turned out pretty cute :D
Finally, I scrapped another photo from our xmas Florida vacation. Cedric and I in front of the iconic Hollywood Studios. I used a template by Jen Yurko and A Little Baby Boy by Mel Hains Designs, a gorgeous baby kit that can be used for much more ;)
Thanks for looking and have a great week-end, everyone. The sun and warmer weather are finally here, so hopefully, we'll enjoy ours too!