We had a beautiful week-end. We pretty much skipped spring and went straight to summer, with temperatures in the mid 20s celsius and a beautiful sun!
So we've been taking rides and walks and spending a little time on the deck.
Went we built our house, I made sure there would be lots of windows in the open-concept main floor, adding a high window in the south wall and choosing a windowed front door. All that to say that the lighting was great for my photo of last week's P52!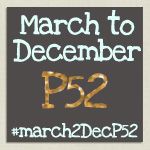 The prompt for last week was "camera". I used to have a cute point and shoot that was small enough to carry around easily and did everything I wanted. Then I lost it... and my awesome hubby got me a new one (summer 2012) which did the same things and more.
Then, still awesome hubby got me a iPhone. I had been using a cheap flip phone, and as I didn't work, there had been no strong reason for me to have a smart phone. But everyone else had one and I guess he could tell I's like one too. It has been amazing for me.
Of course, I waste a lot of time playing silly games. But the Calendar app has changed my life, I use the Notes app everyday for my lists of things to do, hubby and I text instead of calling (which is easier and more efficient for him), I use the Clock app for potty training our son, I use the Music app and the Podcasts app to listen to audio books and podcasts while I clean and cook, and the reason that led me to tell you all this, I use the Camera app to take photos of our everyday!
And that camera is so good, it takes better photos than my point and shoot did. For someone like me who knows nothing of photography, it is absolutely perfect:
- I always have it with me,
- I can transfer, email, facebook, ... my photos,
- it is very fast and therefore I can take many shots of the same thing hoping one will be good (with an autistic hyperactive son, you don't know how precious that is!!),
- the photos are truly good quality and I end having to retouch them less for scrapping,
- I was able to personalize it with a Gelaskins hard case (HP inspired scrap... I'm a nerd).
For all these reasons, since I got it in March 2013, I haven't used anything else and it's funny that was last week's prompt because I just gave my old camera to my mother-in-law!
So here's me with my "camera", probably the way I look to my son when I take photos of him:
This week's prompt is sunshine, so let's hope the clouds go away...