So it's week 3 of March to December Project 52 and from the title of the post, you could guess what the prompt was this week...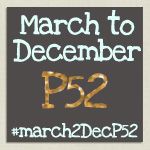 I knew easily and right away what my favourite colour was: teal. It's the colour of my coat, of one of my purses, of some of my jewlery, of at least 4 or 5 of my shirts, ...
It makes me happy and if hubby let me, I would paint the walls and decorate the house with it. On two occasions I could have had a teal car and didn't manage :( (the first time, hubby had a say and chose dark green over teal, afraid he would get tired of it, and the second time it was just not available at our dealership).
What I didn't find as easy was how to photograph your favourite colour! Not as easy as it seems, unless you just go for a photo of you in a shirt of said colour. I wanted to avoid that and challenge myself.
I ended up with 3 ideas. The first was a collection of some of my teal things (coat, shirts, ring, ...) and ended up looking so so:
So I walked around the house and found a cute dinosaur on the wall in Cédric's bedroom which was teal and I thought it would be an original way to display it:
But dinosaurs are not very me... And then it hit me: GLITTER!! I have a box of assorted colours of glitter which I use to make glittery shirts, so I went to get the teal bottle. And then I had to decide how to display it and ended up putting it in snow (in -35 degree weather):
Which do you guys like best?