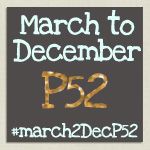 This week, the prompt from March 2 December's list was "macro".
Usually, when I think of macro, I think of nature (flowers, leaves, etc.) and bugs. Of course, with my snowy winter, neither are really available right now. I thought of trying a snowflake, but it's too cold for pretty snowflakes. All we get is gross snow...
My other problem is that I take my photos with my iPhone. I find the camera really good and I'm usually really happy with my photos, but macro was a bit harder (hubby told me later that he thinks there's a macro mode, but he doesn't know how to work it, and I was too lazy to Google it...).
So I tried a photo of my nail polish bottles (I had a couple of hubby free nights which I filled with nail pampering and a chick flick). But the lighting was wrong and the result is so-so (I'll show you anyways):
Then my sister-in_law called asking if we could babysit her dog for the week-end, and the opportunity for a cute photo presented itself in the form of their yorkshire terrier Cuddles.
She's a micro dog who weighs only a few pounds, so I thought a close-up of her face qualified as macro :D
I also like it because it follows the prompts but also represents what we did that week, fitting into the definition of a tradition P52!