A little post, just to let you know about a couple of cool things.
The first one is an awesome sale on all danimoy designs' products. She's celebrating Halloween by putting everything at 40% off!! (the ad is linked to the store, go get some goodies)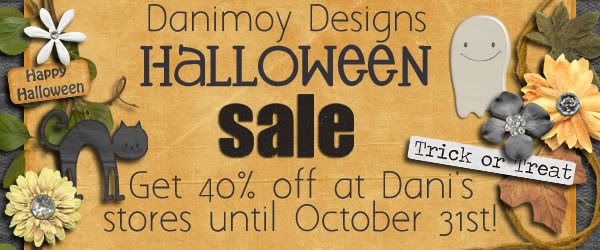 The second thing I wanted to let you know about is a great place in Scrapland, called
MyMemories
! I like it for a few reasons. First they have a metric ton of designers, so there is something for everyone, in every style and for every occasion. It is also the place where 3 of the former Scrap That Idea designers sell their awesome designs: Sara (
Sweet Blossom Designs
), Mel (
Mel Hains designs
) and Vicki (
A Work In Progress
). Finally, they have promotions, free kits, contests and challenges
on the blog
, and those are always fun for inspiration. And I have to say they are VERY generous there. I won a contest a few months ago, and my coupon was somehow forgotten. So I sent a few small reminders once in a while, to see if I could get my $10 coupon (because I really liked the designer whose store it was for:
Ettes and company
). A couple days ago, I finally got a reply and Lisa was VERY apologetic and super nice. Then the coupon didn't work for some reason... And her solution for me was to make me a new coupon for $50!!!!! How generous was that, I was blown away. So thanks Lisa and MyMemories and take a look at what I got:
A Sunshiny Day by Sweet Blossom Designs
A Touch of Fall (plus the Borders and the Frames) by Lindsay Jane
Ready for School (and Wordart 1 and the Extras) by Connie Prince
Time4Me (the kits, the Extras, the Flairs, the Wordart, the Alpha, the Clusters!!) by Ettes and Company
And finally It Happened This Year (and the matching Flairs) by Connie Prince
Can you believe the shopping spree?!?!?! The hardest part was choosing, but I'm so happy! Now I have to use them, lol. I'm planning on using this last one to make my 2012 calendar, so that should keep me busy a while!
Thanks for looking, check out the danimoy designs sale and MyMemories this week-end ;)